Categories
Information
Featured
Simplicity 5000 Series Bags
Simplicity 5000 series vacuum cleaner bags will fit all Simplicity upright vacuum cleaners that have a model number ranging from 5000 to 5999.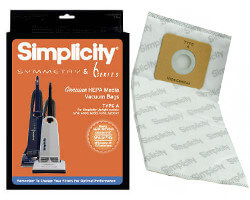 Simplicity Symmetry & 6 Series Type A HEPA media vacuum bags SAH-6 . Simplicity vac bag type A will fit upright vacuum series: Sentry 6 series 6000 series 5000 series MOST...
6 pack of replacement Simplicity Type A, Symmetry & 6 Series bags. Type A bags fit upright Simplicity vacuum models: 6 Series 6000 series 5000 series Symmetry models that DO NOT...
© 2023 Owned and Operated by JAF Vacuums Powered by ZenCart